WATCH NOW: FOOD CITY DIRT RACE: Where It All Began; Petty, seven-time champion, accepts more and more dirt at Bristol Motor Speedway | Sports News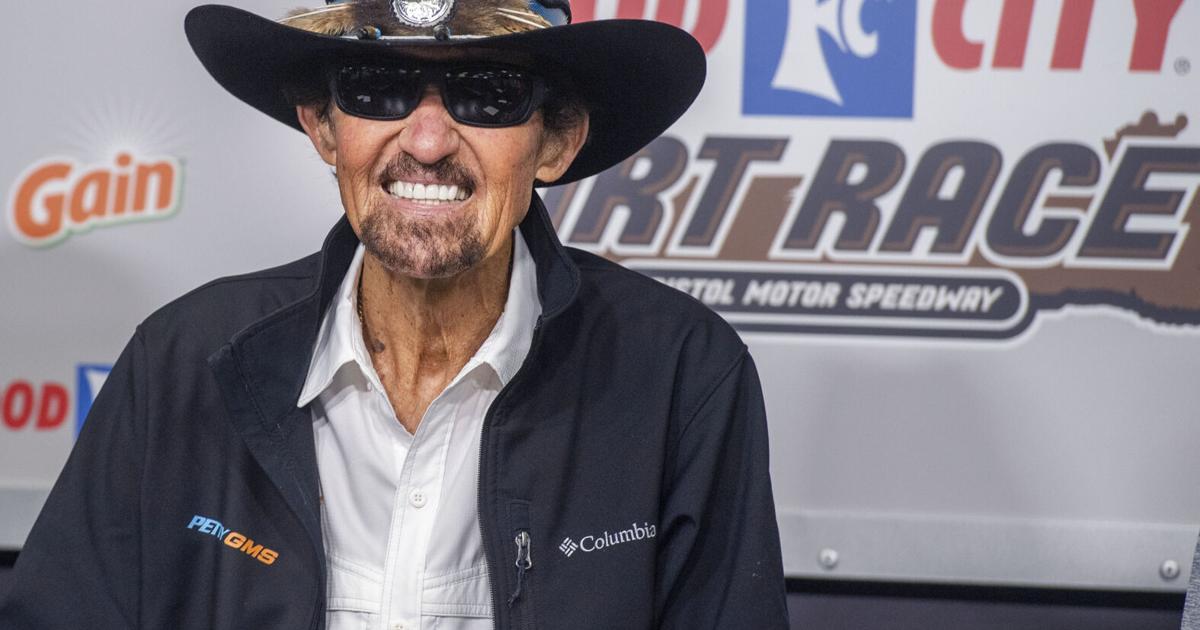 BY ALLEN GREGORY BRISTOL HERALD COURIER

BRISTOL, Tenn. –Richard Petty wasn't exactly thrilled with the daring experiment with the dirt last year at Bristol Motor Speedway.
But at a Tuesday morning press conference at BMS, the seven-time NASCAR Cup champion and longtime team owner explained he was more receptive to the move.
"You look at where NASCAR is today, and I wonder if we're going wrong here going back in time. But once you really think about it, that's our story. If there weren't hadn't had the dirt tracks and the dirt races, there wouldn't have been any other tracks or NASCAR," Petty said.
The Petty GMS Racing team will have a strong presence for the April 17 Food City Dirt Race thanks to a partnership with Food City, Gain and Tide.
The #42 Petty GMS Motorsports Chevy driven by Ty Dillon will feature Gain branding, while the #43 Erik Jones Chevrolet will feature Tide branding.
Jones, who recorded a ninth-place finish in last year's Food City Dirt Race, said adding Dillon as a teammate was beneficial in several ways.
"I consider him to have more information and data," Jones said. "We now have more things to try over the weekend and work on.
"I learned a lot last year, but it was a different route from the one I had taken. Having two cars is a good way to go in the Cup Series.
Based in part on team feedback, BMS and NASCAR officials made changes to the track layout to give drivers more options at the April 17 event. The new departure time will be 7:00 p.m.
"They spoke to some of the guys in the Cup garage who have experience in the dirt to get their options on what we needed to do to widen the track a bit," Jones said.
Regardless of the changes, Jones said the complexity remains high.
"It's a dirt surface, but it's still Bristol," Jones said. "The way you approach and drive the track is similar. There's just a lot less grip than what we have at other tracks.
Dillon finished in 26th place last year on BMS dirt for the underfunded Gaunt Brothers Racing team.
So far this season, riders with dirt racing experience have thrived on the Cup Series. It's a good sign for Dillon, who grew up competing at tracks such as Wythe Raceway in Rural Retreat, Virginia, and Volunteer Speedway in Bulls Gap, Tennessee.
"I've probably raced over 50 times on those two tracks," Dillon said. "Wythe has the long straights and Volunteer has the high banks like here. I would call them my two home dirt tracks.
As for the second year with Operation Dirt at BMS Dirt, Dillon is optimistic.
"They changed the incline of the track a bit, which should make things go faster," Dillon said. "At the start of the race last year, the riders could move around, reach the top and use it. But I don't think the track is ready for that yet, so the cars ended up at the bottom.
"A lot of work has been done to ensure there are multiple grooves for this race.
During five events this season, parity has been in place since five different drivers have won.
"New [Next Gen] the car provides a lot of that," Jones said. "Some teams understand things, while other teams are still getting used to it."
Jones quickly learned about the much-publicized Next Gen trick.
"I appreciate things," Jones said. "The car was fun to drive and the racing was good. It's a new challenge, of course, but the season is going in a very good direction overall.
According to Petty, the rare Easter Sunday race date for the Food City Dirt Race has the potential to be a hit with spectators and TV viewers.
"From a spectator perspective, Bristol is probably the best track we're going to. A lot of fans will be eager to get out as it will be a night race," Petty said. people will be home and watching with their families.
"From that perspective, I think it will be a big plus for Bristol Motor Speedway and for NASCAR."
As for placing dirt around one of motorsport's most iconic tracks, Petty is more tolerant.
"Coming back once in a while and letting the fans and the drivers realize where NASCAR is really coming from, I'm starting to be a bigger fan of that," Petty said.
Food City will be a sponsor of Petty GMS rides.
"We always look forward to coming to Bristol," said Petty. "The dirt makes it interesting, kind of like we're racing on the road."
Over the next two weeks, BMS will host the second annual Karl Kustoms Bristol Dirt National Championships.
The colorful event features 11 different classes, with a prize pool of $1 million.
The grandstands will be open for both weekends for the latest XR Super Series models, featuring some of the best dirt riders in the country.
A $50,000 race up for grabs for late-model XR Super Series will conclude each race night for both weekends. The driver with the best streak of finishes over the four-race streak will pocket an additional bonus of $100,000.
The heat races for the support divisions took place at the BMS on Tuesday evening.
agregory@bristolnews.com | Twitter: @Greg_BHCSports | (276) 645-2544