Update: Windy night expected as storm trail resumes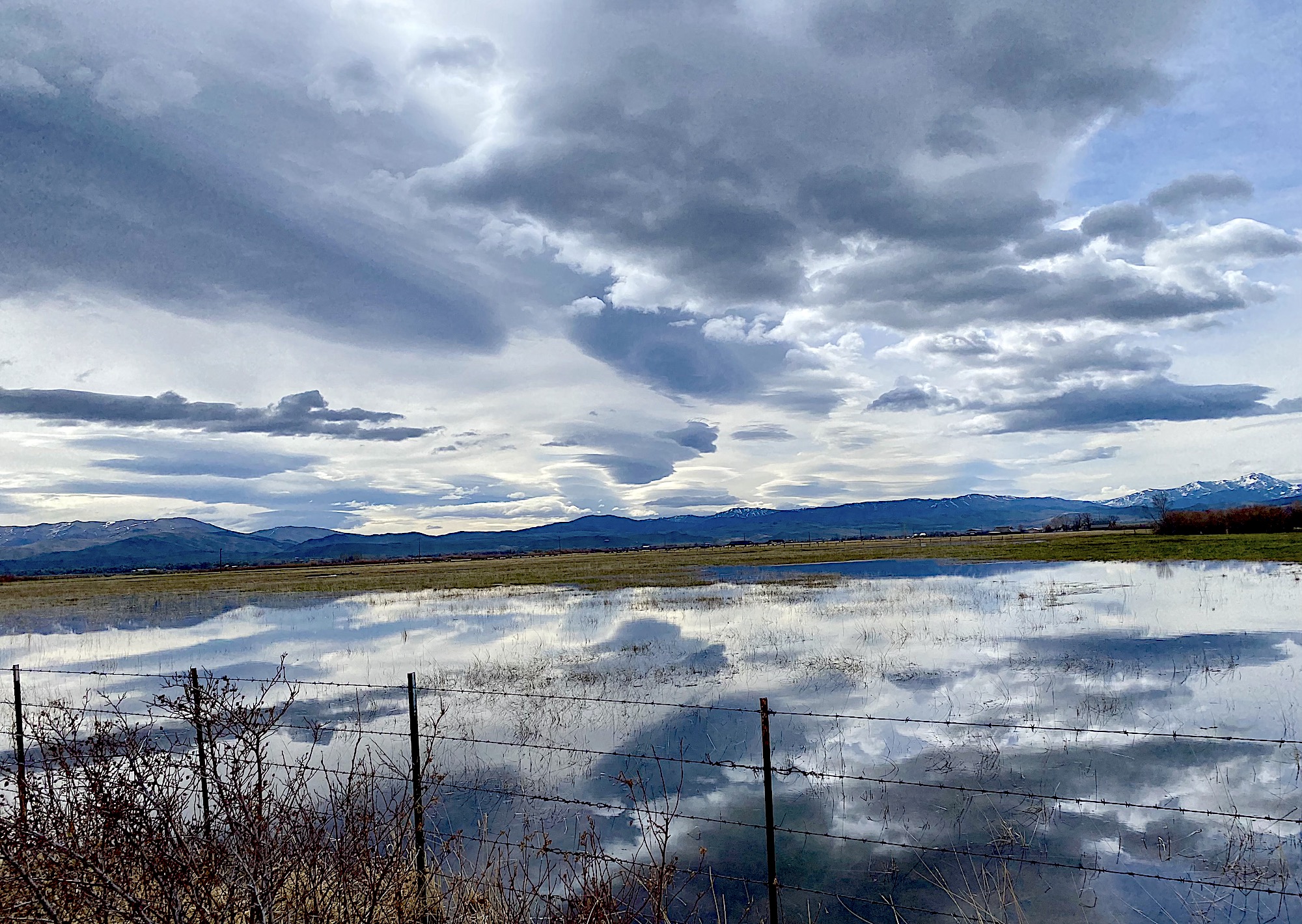 Storm clouds reflect in a flooded field in Carson Valley on Friday afternoon. Special photo for The RC by Katherine Replogle
Tonight is expected to be wild with southwesterly winds of 30-45 mph and gusts of over 40 mph along the Hwy 395 corridor.
"There will be a chance for wind-prone areas to exceed 60 mph," forecasters from the National Weather Service Reno said in a statement. "Patchy blowing dust will also be possible downwind of sinks and dry lake beds Monday afternoon and evening."
A wind advisory comes into effect at 2 p.m. today and will last until 11 a.m. Tuesday. Forecasters urged residents to prepare for possible power outages.
A winter weather advisory was issued for the Lake Tahoe area above 6,500 feet from 2 a.m. to 11 a.m. Tuesday.
Forecasters predict the storm won't be very wet, with less than 2 inches of snow expected at lake level.
However, there is more hope that colder, wetter weather will arrive Wednesday through Friday, bringing rainfall totals of over 2 inches across the Sierra.
"Snow levels are expected to remain below crossing levels for the duration of the event," forecasters said Sunday morning. "Snow totals can exceed 2 feet at higher elevations, 8 to 14 inches at Lake Tahoe. Several inches will be possible in the western Nevada foothills, but there is more uncertainty in these areas.
A mild Easter provided a break from a series of spring storms.
Saturday's storm brought a 79mph wind gust at 6am near the Kingsbury base left Heavenly Stagecoach 5 inches of snow.
A rain gauge north of Genoa recorded 0.38 inches of rain from 7 a.m. to 10 a.m. Saturday, while a rain gauge further south near Fredericksburg had 0.28 inches.
Markleeville recorded 0.64 inches of precipitation and South Lake Tahoe recorded 0.45 inches, according to National Weather Service observations.
Cooler temperatures and some additional humidity led to the water equivalent of snowfall at Ebbetts Pass, which feeds the East Fork of the Carson River, recovering slightly from a low of 10.1 inches on April 11 to 13, 2 inches Sunday.
Snow telemetry run by the Natural Resources Conservation Service showed the snow water equivalent at Carson Pass dropping from 7 inches on April 11 to 8.2 inches on Sunday. Carson Pass is at the top of the West Fork.
Previous story
Slippery conditions on Kingsbury Grade resulted in at least three traffic jams around 8.15am Saturday morning, including the sheriff's patrol car.
A black Porsche sport utility vehicle was flagged in the guardrail as snow began to stick to the highway.
Traffic checks came into effect over Kingsbury and Spooner Summit from 7:30 a.m. to 8 a.m.
No serious injuries were reported.
A winter weather advisory is in effect for the Greater Lake Tahoe area through 2 p.m. Saturday with snowfall accumulations of up to 4 inches around the lake.
"Travel could be very difficult," the forecasters said. "Very strong winds could cause significant damage to trees."
A gauge a mile north of Genoa recorded 0.28 inches of rain in an hour as it continued to rain.
The forecast calls for the rain to dissipate by lunchtime.