Meeting the Challenge with Proactive Marine Maintenance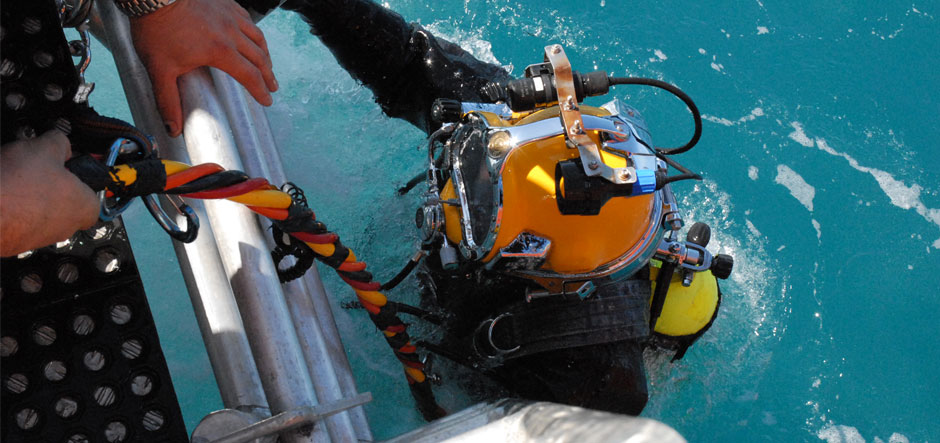 Subsea Global Solutions in-house divers perform various jobs on cruise ships
A lot has happened in the past 24 months around the world for all of us, with the pandemic leading to changes in work priorities and environments, as well as additional complications in scheduling and travel. Reflecting on this, Subsea Global Solutions (SGS) sought to further enhance its capabilities while expanding its global footprint and investing in new resources. We couldn't be more proud of the resilience and camaraderie of our employees, as they adapted and grew throughout, meeting the challenges of customers old and new, even breaking records in the process.
SGS continues to fully support our valued customers in the cruise industry, through our unique offering of fleet management services which allows us to proactively manage the hulls and propellers of most of our customers' vessels and monitor their condition permanently. We do not wait for a vessel to report excessive fuel consumption or reduced speed, but plan our services a year in advance once branded routes are decided. Although we have had to make some adjustments to adapt to fleet routes and sailing schedules which change frequently in 2021, this strategy generally allows us to plan our services in advance in suitable ports, which allows our customers to save valuable time and money.
We can operate in an industry-leading range of ports, consisting of 14 homeports and one of the largest approved partner networks in the world. With over 180 in-house divers and working procedures approved by all major international classification societies, SGS is well placed to meet the needs of its customers for project-based subsea maintenance and repair services on five continents at any time, throughout the year.
To give an indication of the scale throughout 2021, we have been able to assist our customers over 4,000 times, looking after over 2,000 vessels worldwide, including over 400 vessels from cruise. We have performed class in water studies, propeller polishing, hull cleaning and a wide range of intricate underwater repairs.
Throughout the pandemic, the combination of work undertaken has included preventive maintenance of bow thrusters, stabilizers, stern seals, rudders and azimuth propulsion units that would typically cause the costs, delays and complications of dry docking. We also exceeded the 100 tonne barrier in rudder removals, class repairs and refitting. Much of this would not be possible without our innovative teams, our TransHab diving environment, our proprietary wet welding methodologies and our advanced project management capabilities.
As we look to the future, how we help reduce the environmental impact of our customers' fleets is one of our main focus points. It is well known that a vessel that is clean below the waterline can offer dramatic reductions in fuel consumption, saving both money and emissions – a double win. Our underwater cleaning and maintenance services, such as a quick propeller polish to the Rupert Scale "A" grade standard, save up to 6% fuel. While a thorough cleaning of the hull achieves even more, with energy efficiency gains of between 7 and 30%. These services result in a return on investment in one or two crossings.
We have also expanded our operations in Europe and Africa by welcoming the SRN Group into SGS, and with the wider introduction of our CROV Navigator Cleaning concept enhancing our ability to provide subsea solutions in more challenging environments where and when traditional dive services cannot operate. These systems greatly increase location flexibility for customers, speed of operations and allow us to operate in environmentally sensitive areas thanks to our port approvals. This is due to our bespoke filtration systems, which can capture cleaned fouling debris in real time and treat it in accordance with the concerns of environmental authorities.
We are also working and investing to take advantage of accelerating digitization. Our SGS online reporting tool provides a unified reporting capability for larger fleets, with our range of bespoke customer formats providing an easier way to manage their digital overview. Dashboards in our Partner Central system provide details on task planning, overall spend and ongoing projects, allowing fleet performance to be monitored. It also establishes evidence of compliance with International Maritime Organization resolutions on biofouling management, ship energy efficiency management plans; and alignment with carbon intensity measures of ship finance such as the Poseidon Principles.
Harun Duzgoren is Commercial Director of Subsea Global Solutions
This article first appeared in the Spring/Summer 2022 issue of Cruise & Ferry Review. All information was correct at the time of printing, but may since have changed.
Subscribe to Cruise & Ferry Review FREE here to get the next issue delivered straight to your inbox or doorstep.
Share this story