Fishtown Local: Tough Mom, Tough Team | Opinion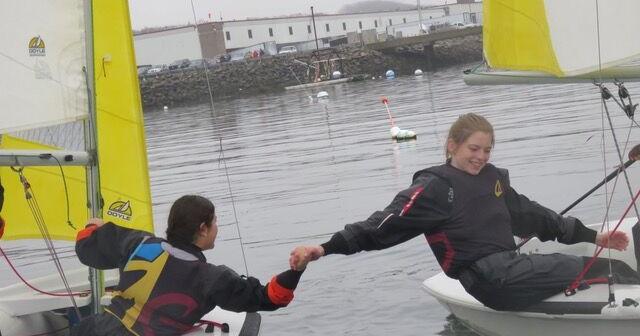 What year. Do you remember a windier spring? It never seems to stop, sometimes for days at a time. Especially that pesky northwesterly wind that seems to be getting stronger as the day goes on. This can have its pros and cons when it comes to navigation. Sometimes that cancels out the practices of our glorious high school sailing team, but most of the time it doesn't.
My co-team leader, Hilary Frye, is one tough mom. She'll kick those kids out unless it's really dangerous. The center of Gloucester Harbor where we practice provides a bit of a northwesterly and equally squirrelly southeasterly wind block. East Gloucester's high hills and downtown buildings can reduce a 20 mph breeze to around 15 mph and significantly reduce harbor waves. SailGHS was able to use this windy responsibility as an asset this year, as our kids were able to train early and often in conditions that other teams couldn't.
SailGHS starts in mid-March, while some teams haven't started for nearly three weeks after. It can make a huge difference, and in 2022 it did.
Our small but enthusiastic group made it their holy grail this year to take on the extra wind and the league giants and fight their way to a 9-0 record in Mass Bay League competition. They were so committed, this small group of competitors with big hearts, that our team of 12 was able to go neck and neck with teams of 36 and 48 Division 1 kids.
Gloucester High School is Division 2, but three of our wins have been against Division 1 teams, a great achievement.
The good news is bad, however, as the top team in Division 2 will be kicked out to Division 1 next year.
The lowest ranked team from above will be relegated to make room. Sigh. Be careful what you ask for, you might get it.
But this is the year to bellow hoorah. But we're frozen in time. Due to uneven schedules and late starts from Division 2 South to kick off their playoffs, our contender in the finals has not been determined and the likely winner cannot be scheduled until mid to late this week. So we have to sit and wait for the contest. We should have cooled our jets for a week to 10 days before we got our shot. We are all trained with no one to fight. We will try to use the time for additional training and hope it makes a difference.
This year, the whole team stood out, each in their own way. Harvard team captain Olivia Hogan-Lopez was cited by this coach as the most valuable player the program has ever had in all those seasons. She reinvented the way we all viewed team racing, myself included, converting our efforts from sprint racing to smart racing. Olivia is very sneaky on this course and together with second AJ Lewis they have twisted their rivals' plans, causing nothing but trouble and dictating how the race goes, using the rules and exquisite timing. It was a joy to watch them. Both were so good at using misdirection and strategy to confuse other teams, force mistakes, and push their teammates down the pecking order. Them and their younger brother Ryan Lewis and younger sister Alyscia Hogan-Lopez showed me many times that you don't need to have a first place boat to win team races, you just need the score lowest team total. Any combo, like 2, 3, 4 or even 2, 3, 5, as long as it is less than 10 in total, is a winner. 11 or more is not.
I also wanted to say a big thank you to Gloucester Police Officer Jeremiah Nicastro who put us on the electronic board along Stacy Boulevard to be Division 2 League Champions. The children were so tickled. and anyone reading this column would know how excited I was to see the "Use Your Blinka" as an alternative sign, spreading safety in the community.
So while we wait for the final outcome to see who is Division 2 State Champion, let's celebrate how this little group has become a group of friends. They talk and laugh and gush and gossip and play air guitar and put down roots like no tomorrow. It is such a joy for Hilary and I to see this bond of friendship that will last a lifetime. There is nothing like this reward that a trainer can have. So thank you, children, for showing us the way and for working so hard. They can't do it without us — we can't do it without them. What year.
Gloucester resident Gordon Baird is an actor and musician, co-founder of Musician magazine and producer of the community television show 'The Chicken Shack'.