Experimental Future Soldier System Prepares Malaysian Army for Modern Warfare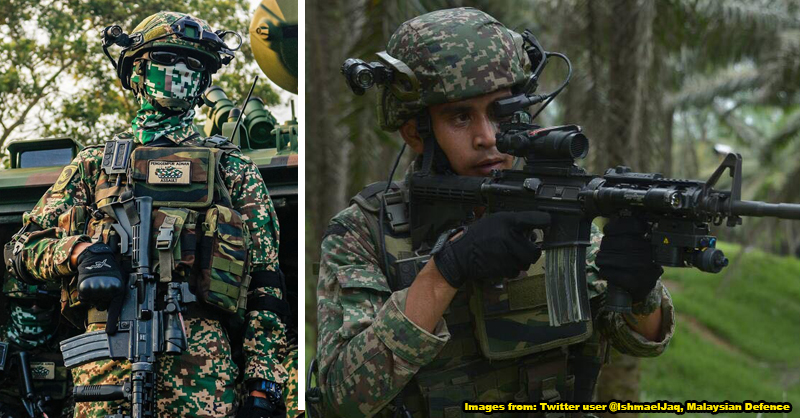 Call of Duty. Halo. Captain America. Starship Troopers. These works of art gave us a glimpse of what the future of warfare might look like. From genetic modifications to mechanical augmentations, the possibilities are endless when it comes to imagining what a soldier would look like in years to come.
And it's not just the international superpowers that are also heading in this direction; even smaller countries like Malaysia and Singapore have integrated a future soldier program prepare their armies for changing warfare environments. Why? Well, in the words of our then Defense Minister, Mat Sabu:
"A Latin proverb says "Si vis pacem, para bellum", which means 'If you want peace, prepare for war'." – Mat Sabou
So what is Malaysia's future military agenda, and how prepared are we for… Advanced War?
We equip our soldiers with high-tech equipment like front cameras and GPS
Dating as far back as 2009, The Malaysian FSS soldier modernization program is in line with NATO's five capability areas: durability, mobility, survivability, lethality and C4I (command, control, communications, computers, intelligence).
Developped by Sapura Thales Electronics (STE), a joint venture of Sapura (yes, that sapura) and French multinational Thales, the FSS is supposed to be a 'fully integrated infantry combat system'covering most aspects of loading a modern soldier, such as Personal Protective Equipment (PPE; such as Oakley goggles, Kevlar helmets and vests) and Special Ops Favorite Modification Rifle Accessories (SOPMOD; including suppressors/silencers and ACOG sights).
The FSS was introduced as part of the Malaysian Army Network Centric Operations (NCO) program, which would allow greater synergy and coordination over long distances. According to STE, each soldier would have 'act as a sensor', transmission crucial battlefield information to command.
the user customizable infantry communication system (which weighs less than 7 kg) understand :
There's obviously more than that, but we won't get too technical for the sake of brevity, so if you want to see more details, see here, here, and here. In total, these constitute the Malaysian Army Future Soldier Combat Uniform (MAFSCU) Mk II, which, since 2017, is currently used by the experimental FSS platoons of the 12th Royal Malay Regiment (Mechanized) and 4th Mechanized Brigade.
But it doesn't seem like the path to the future is going smoothly, because…
The program remains incomplete because its funding has been activated / deactivated
As fanciful as this all sounds, the fact remains that the FSS/NCO program was originally released without formal timelines or final requirements by the military, and encountered several obstacles in its development, especially in 2016, when the government did not continue to fund Phase 1B of the NCO project (Phase 1A, costing about RM2 billion, was completed in 2015 and is currently in service). The entire NCO program was to run from 2011 to 2035, divided into 5 phases: 1A, 1B, 2, 3 and 4.
And while phase 1B was to be implemented in 2017-2023, he was arrested as he had done did not find a bidder in 2019. It was later picked up by a local computer company OpenApps Sdn Bhd. From there, the ensuing pandemic did not appear to impede progress, and work on Phase 1B(1) would have been 'it goes well', according to the general manager of OpenApps Dato' Abdul Hamid Sheikh, who is also an independent director of Ekuiti National Berhad (EKUINAS).
If this is true, then Phase 1B will see the introduction of a tactical data link for the RMAF's McDonnell Douglas F/A-18D Hornet fleet, and later the Sukhoi Su-30MKM as well, which looks pretty cool (these are fighter, Besides).
But that being said…
Malaysia's military may still not be ready for a global war
While we do indeed have one of the most capable armies in the world, we seem to be struggling somewhat to meet the demands of modern warfare. Although the previous PH government issued the first ever defense white paper (10-year defense and national security policy plan), critics called it "not enough", especially in the face of potential aggressive action by China:
"The white paper does not show an approach that can strengthen our defense. Our territories are invaded by foreigners, but there is still no action from Malaysia. These are our territories, these sandbanks, but the waters are patrolled by China. – BN MP Shahidan Kassim, 2019
This quote was said in 2019. Fast forward to 2022, and Shahidan's prophecy proves chilling, as China moves ever closer to Borneo.
Although Malaysia's military spending has acquired in recent years, it is unclear whether Malaysia will even be equipped for such a threat, or even how we will react even if we are. But for now, overall relations with the rest of the world seem to be going well, and that's probably for the best.