$20 million in APS-2 spare parts, tools and supplies accounted for then delivered to Grafenwoehr Armored Brigade | Item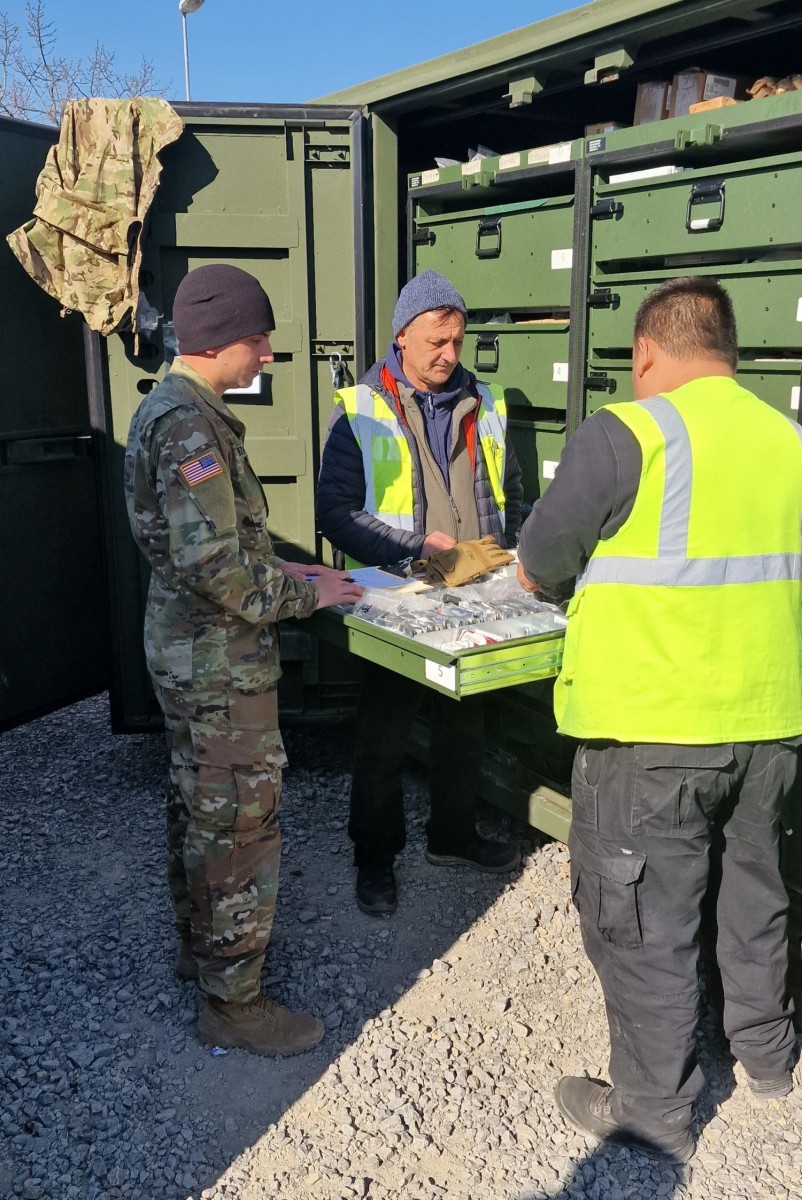 MANNHEIM, Germany – What's easily obvious are the tanks and armored vehicles being prepared, loaded, transported, unloaded, staged and distributed, but what's less obvious are all the supply items, tools and spare parts needed to keep these vehicles and the 1st Armored Brigade. Combat Team, 3rd Infantry Division, operational.
And this is another area where the Mannheim Army Field Support Battalion has once again excelled.
Exactly 4,776 lines of material, with some lines containing over a thousand items per line, were recently accounted for, flagged, shipped and delivered to 1st ABCT, 3rd ID, by a team of approximately 30 personnel under command and the control of AFSBn-Mannheim and the watchful eye of the 405th Army Field Support Brigade.
Worth nearly $20 million, tens of thousands of pre-positioned Army-2 spare parts, supply items and individual tools in 43 containers were shipped from the Coleman yard to Mannheim, Germany, to Grafenwoehr Training Area, Germany, and issued to the US-based Armored Brigade Combat Team deployed there from Fort Stewart, Georgia.
Army Sergeant. 1st Class Georgie Rodriguez said the mission was a total team effort. Divided into teams mostly of 2 people, the logistics supply specialists and contractors assigned to AFSBn-Mannheim, 405th AFSB and 1st ABCT, 3rd ID completed the mission in just five days.
"It's a very tedious process," said Rodriguez, who serves as the Supply Support Activity NCO with Support Operations, 405th AFSB. "They have to check everything – every item – then recheck and check again. And then they have to release all of this information to the global combat systems support army.
The Global Combat Systems Support Army, or GCSS-Army, is a web-based automated logistics system that tracks and maintains accountability for spare parts and supply items. It is capable of handling large volumes of transactions and provides updates of current item locations as well as expected arrival times. It also interfaces with the General Funds Enterprise Business System, or GFEBS, for financial data tracking and feedback.
Rodriguez said two key people who helped lead the process and ensure the success of the mission were Phillip Bosco of AFSBn-Mannheim, who was the officer in charge of 4,776 lines or equipment, and Nixon Pierre-Louis of 405th AFSB Support Operations, who was the Materiel Manager, Planner and Mission Operations Officer.
"I commend them and the entire team of soldiers, army civilians and contractors – including Sergeant First Class Rodriguez, Mr. Bosco and Mr. Pierre-Louis – for ensuring that the process was completed in record time with 100% accuracy," said Lt. Col. Brian Astwood, commanding officer of AFSBn-Mannheim. "Thank you for all your hard work."
Rodriguez said his primary responsibility was to provide updates on the process to the director of support operations, who in turn briefed the commander of the 405th AFSB.
"To see the representatives of the various organizations come together and react so quickly – it was exceptional," Rodriguez said. "They executed the mission perfectly – on time and on point."
The 405th AFSB is assigned to the US Army Sustainment Command and under the operational control of the 21st Theater Sustainment Command, US Army Europe and Africa. The brigade is headquartered in Kaiserslautern, Germany, and provides material support to U.S. forces throughout Europe and Africa – providing theater support logistics; synchronize acquisition, logistics and technology; and leveraging the U.S. Army Materiel Command Materiel Enterprise to support joint forces. For more information on the 405th AFSB, visit official site and the official facebook site.